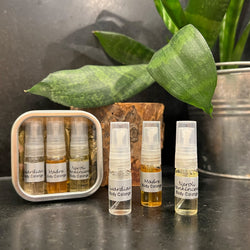 Lunaroma
Spirit Collection Cologne Sampler Set
Our Spirit Collection cologne set is packaged in a cute little sampler set that is ready to gift to yourself or a loved one!

These 3 new Body Cologne scents have been featured in other products and have been requested time and time again as colognes.

Now they are available in both of our popular cologne sizes as well as this sweet sampler set. 

Read about these exquisite scents here:

Neroli Frankincense Body Cologne

Each set contains three 3 ml sampler sprays for just the right amount of cologne to get to know these scents individually.