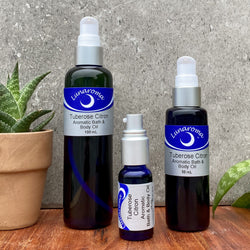 Lunaroma
Tuberose Citron Aromatic Body Oil
Tuberose Citron Body Oil is a beautiful combination of mysterious and extraordinary Citron which is a fresh, bright citrus, with an edge of crisp, combined just right with the sensually spicy floral Tuberose. This sexy combination is alluring and uplifting while supporting relaxation and the feeling of traveling into a beautiful, tropical paradise.

Our Aromatic Body Oil is like a perfume oil but designed to be applied to the entire body. Designed primarily for scenting purposes with the added bonus of providing a light, penetrating oil base for sealing in moisture. Try something different by using our Aromatic Body Oil as a light perfume oil or apply to freshly washed hair for a magnificent scented hair oil.

Organic Jojoba, organic Fractionated Coconut Oil, and Pure Essential Oils.

Use after bath or shower when skin is still wet to seal in moisture and create a base layer of scent.

May also be used as a light perfume oil or hair oil. To use as a light bath oil, add 3-5 pumps to an already pour hot bath, or apply to the skin before getting into the tub.