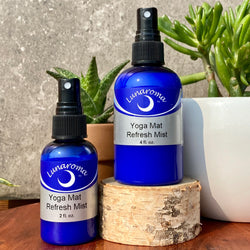 Lunaroma
Yoga Mat Refresh Mist
Freshen up your yoga mat with our Yoga Mat Refresh Mist. Enjoy a fresh yoga mat and the clean scent of this mist that includes Lemon, Tea Tree, Lavender, Eucalyptus and more.

Freshen up your mat by misting your mat then wiping it dry. May also be used as an air freshening mist.

All our Yoga Mat Refresh Mists are packaged in PET plastic containers for ease of weight and travel in your yoga bag. These are recyclable but we encourage refilling with our bulk sizes instead. 

Deionized Water, Pure Essential Oils, Vegetable Emulsifier

Spray your yoga mat generously then wipe with a cloth. Caution do not spray on items which could be harmed by contact with water.

May also be used to refresh the air.