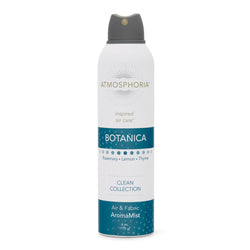 Botanica - Clean Collection
Botanica is a clean and green natural air freshener featuring herbaceous notes of Rosemary, Thyme, and Lemon.

All Atmosphoria AromaMists are all natural, plant-based aromatherapy sprays made with compressed air, essential oils, absolutes and water. Atmosphoria is formulated and manufactured by aromatherapists to contain nothing synthetic, no toxic propellants and no petrochemicals. Only pure ingredients which are safe for you and your family are found in Atmosphoria. 

Botanica is part of our Clean Collection created to take the cleanliness of your home, office or car to the next level.

Formulated with essential oils that deliver crisp and bright aromas, you can rest assured that Clean Collection will make your atmosphere sparkle with the powerful, essences of Thyme, Lemon, Eucalyptus, Rosemary, Tea Tree, Peppermint and more.

This collection is also perfect for freshening basements, bathrooms, storage closets and your kitchen countertops.


Pure water, Pure essential oils and absolutes, non-GMO Sugar Cane Alcohol, Vegetable emulsifier.

Mist into air and waft when using as an air freshener. May also be sprayed directly on surfaces which can tolerate water or being wiped down, such as car seats, bedspreads, counters, tables, curtains, rugs, etc,. Please note, this is a water-based aerosol air freshener and will make surfaces wet. Do not use on surfaces which may be damaged by water or essential oils.

Keep can upright while spraying. Do not spray upside down.