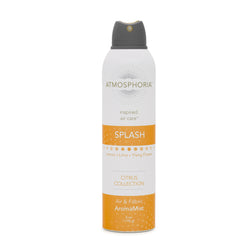 Splash - Citrus Collection
Splash is an uplifting natural air freshener featuring juicy aromas of Lemon and Lime swirled with Ylang Ylang blossoms.

All Atmosphoria AromaMists are all natural, plant-based aromatherapy sprays made with compressed air, essential oils, absolutes and water. Atmosphoria is formulated and manufactured by aromatherapists to contain nothing synthetic, no toxic propellants and no petrochemicals. Only pure ingredients which are safe for you and your family are found in Atmosphoria. 

Splash is part of the refined, clearing and expansive scents found in our Citrus Collection which creates exceptionally sublime scentscapes that aromatically enliven, brighten and deliver clarity wherever and whenever you need it. 

Experience true Citrus. Within this collection, you will find juicy, sunshine filled, bright scents that sparkle. The Citrus Collection creates the scentscape of walking through citrus groves filled with Orange, Lemon, Grapefruit, Lime and Tangerine.

Exquisitely crafted, the Citrus Collection broadens your olfactory experience with the addition of uncommon Citruses such as Bergamot, Petitgrain, Key Lime, Litsea and Citron.

Citrus essential oils are usually cold pressed from the peel of fresh fruit, though may also be steam distilled to yield a distinctly different scent quality.

Citruses impart an uplifting yet calm aromatic aura, and provide a familiar, crispy-sweet, expansive ambiance. 


 

Pure water, Pure essential oils and absolutes, non-GMO Sugar Cane Alcohol, Vegetable emulsifier.

Mist into air and waft when using as an air freshener. May also be sprayed directly on surfaces which can tolerate water or being wiped down, such as car seats, bedspreads, counters, tables, curtains, rugs, etc,. Please note, this is a water-based aerosol air freshener and will make surfaces wet. Do not use on surfaces which may be damaged by water or essential oils.

Keep can upright while spraying. Do not spray upside down.