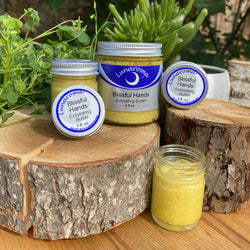 Lunaroma
Blissful Hands Exfoliating Butter w/ AHA
Treat your hands to true Bliss with our softening and renewing Blissful Hands Exfoliating Butter skin conditioner. Filled with softening, emollient oils and butters, including organic raw Shea Butter, exfoliating Malic Acid, and Citric acid (mild Alpha Hydroxy Acids obtained from apples, and citrus fruits) as well as Apricot Kernel Shell, and Pumice. Perfect for removing dry skin, your hands will feel soft, smooth and renewed!

Blissful Hands Exfoliating Butter features the soothing and fresh scent of Lavender, HoWood and Lemon. 

NOTE: Blissful Hands Exfoliating Butter with AHA is extremely HEAT SENSITIVE! When shipping in hot weather, we cannot assure you will receive it in perfect condition. Heat will cause this product to liquify and change its appearance however, this change will not damage the product. It will just be more concentrated and you will require about half as much product to 

Organic Cocoa Butter, organic Coconut Oil, organic raw African Shea Butter, organic Jojoba, organic Herbal infusions of Calendula & St. Johns Wort in organic Olive Oil, Walnut Shell, Pumice, Malic Acic, Citric Acid, and pure essential oils.
Apply liberally to the hands, scrub in circular motion, remembering to cover each finger and in between, allow Blissful Hands to stay on the hands for 2-3 minutes then rinse with warm water. For a more intense spa treatment for your hands, wrap your hands with a wash cloth which has been wet with hot water and wrung out and leave on your hands for an additional few minutes before rinsing off.