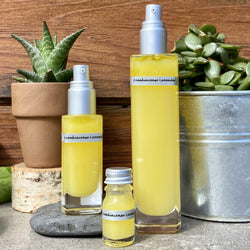 Lunaroma
Frankincense Lavender Body Silk
Our Frankincense Lavender Body Silk is a balancing and subtle blend of earthy and expansive Frankincense, and herbaceous, floral Lavender. Fresh, clean, and mellow.

Frankincense Lavender Body Silk will give you heavenly scented and incredibly silky smooth skin.  It is heavier than our Body Oils and more like a "liquid Body Butter".  

You will love applying Body Silk daily after the shower or the bath to seal in moisture. Made from a blend of fine organic botanical oils and butters, we consider this emollient moisturizer to be liquid gold for the skin.

Organic Sweet Almond Oil, organic Jojoba, organic Avocado Oil, organic Olive Oil, organic raw African Shea Butter, organic Cocoa Butter, organic Coconut Oil, Vermont Beeswax, Vitamin E, Pure Essential Oils
To seal in moisture, nourish, soften and pamper your skin, apply Body Silk to skin immediately following a bath or shower, while skin is still damp. May also be used for a luxurious massage in place of massage oil.