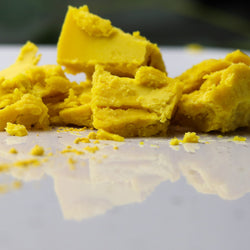 Lunaroma
Shea Butter, Yellow (Raw, Organic)
Our organic, raw Shea Butter has been used as a skin softener and protector for centuries. Extracted from fat of the seeds of the Karite Tree, commonly known as the African Shea Tree, this butter is a rich, creamy emollient. Enjoy using Shea Butter alone for the skin and for the hair or use it as a base in making your DIY body care products and soaps.

Our Shea Butter is yellow, as opposed to others on the market which are tan, beige, white or slightly grey. This is because most companies buy and sell refined Shea Butter which has been heated to remove the color and the scent.

Our Shea Butter is organic and raw, and therefore retains a rich, golden-yellow color, a slightly nutty scent, and is soft and smooth. By not processing the Shea Butter to remove the scent and color, it retains the most vitamins and nutrients to nourish your hair and skin.