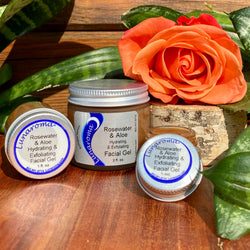 Lunaroma
Rosewater & Aloe Exfoliating and Hydrating Facial Gel
We cannot rave enough about our luscious and beautifully effective Rosewater & Aloe Hydrating and Exfoliating Facial Gel. With the scent and action of pure Rose oil coupled with the moisture of organic Rosewater, organic Aloe Vera Gel and raw Vermont Honey, you will gently hydrate and exfoliate dead cells leaving your skin super soft, hydrated and beautiful. Gentle enough to use on all skin types including sensitive skin.

 

Organic Aloe Vera Gel, organic Jojoba, Pure Vermont Honey, organic Bulgarian Rosewater, organic Vegetable Glycerin, organic Alkanet infusion in organic Fractionated Coconut Oil, Citric Acid, organic Guar Gum, organic extracts of Echinacea and Black Willow Bark, Colloidal Silver, Colloidal Gold, Walnut Shell, Pumice and Pure, wildcrafted and organic Essential Oils
For an exfoliating and hydrating skin treat, apply to face, under chin, and neck, massaging in a circular motion. Allow to stay on the skin for a few minutes. Rinse completely with lukewarm water. Follow with our organic Rosewater, or a toner and a moisturizer.