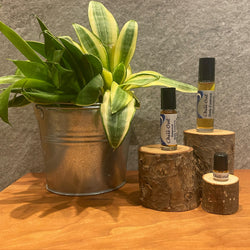 Lunaroma
Chill Out Body Essence
Chill Out is a combination of Sweet, Grounding, Sensual and Relaxing with notes of Lavender, Vanilla, Chamomile and Ylang Ylang... relaxed, comforting and sexy all at once.

Feel great wearing your favorite scent daily or just to make you feel nourished, calm, sexy and chill.



Note: Body Essences carry a stronger scent than Body Colognes but not as strong as our Precious Perfumes, Perfume Oils or Essence Oils. They provide a fresh way to apply a base layer of precious botanical aromatics to the skin in an expressive, organic base. Body Essences are available in both mist and roll-on forms. Great for after the bath or shower, or a quick freshen up during the day without being too strong. A fragrant enough scent concentration to be used alone or as a piece of aromatic layering with any of our products.

Organic Jojoba, pure essential oils and/or absolutes.

Apply to pulse points, front and back of neck, chest, and anywhere scent is desired. For longer lasting scent, also apply a small amount to your hands before running them through your hair and/or gently patting down your clothes.