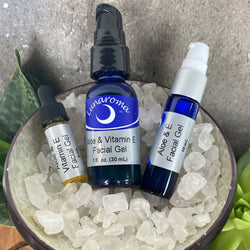 Lunaroma
Aloe & Vitamin E Facial Gel
Our moisturizing and nourishing Aloe and E is made with the finest blend of pure essential oils in a base of Organic Aloe Gel, non- GMO Vitamin E and Organic Jojoba. This gel contains the same well-balanced proprietary blend of essential oils found in our Nourishing Facial Elixir, in a lighter, more hydrating and easily penetrating gel.

Aloe & E is perfect for oilier skin types and extremely popular for all skin types in the humid summer months. A wonderful daily moisturizer, perfect under make up and for all skin types. Light, hydrating and fresh. Will not clog pores.

Organic Aloe Vera gel, organic Bulgarian Rosewater, organic Echinacea tincture, organic Jojoba, organic Rosehip seed oil, Carrot oil, Colloidal silver, organic Guar gum, Citric acid, Non GMO Vitamin E D-Alpha, organic Aloe Vera Leaf Powder and our proprietary synergy of pure wildcrafted and organic essential oils featuring Bulgarian Rose Otto.
After proper cleansing, use a hydrosol or toner, and apply Aloe & E to already damp skin. Shake well before use.