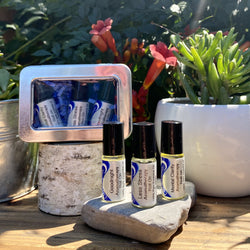 Lunaroma
Be Balanced Gift Set
Be Balanced Gift Set includes our 3 best selling aromatherapeutic formulas to ease stress and tension and aromatically support a restful night's sleep.

Be Balanced Gift Set provides the perfect sampling of these must-have blends for anyone in your life that can use a little extra help unwinding.

Gift set includes:

1 each:

5ml Deep Calm Aromatherapeutic Roll On

5ml Less Stress Aromatherapeutic Roll On

5ml Goodnight Aromatherapeutic Roll On

Pure organic and wildcrafted essential oils in a base of Organic Jojoba.
Apply to temples, back of neck, and under nose. Re-apply as often as needed.