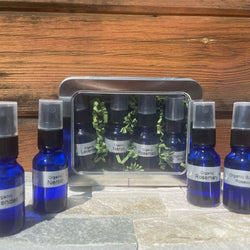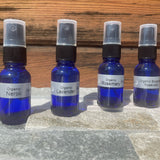 Lunaroma
Organic Hydrosol Sampler
Hydration is key to having healthy, glowing skin. As a byproduct of the distillation process used in creating essential oils, hydrosols contain many of the same vitamins and nutrients found in the botanical but which are water soluble and which your skin can absorb and loves!

In this sampler you will find four 15ml (1/2oz) of our most popular organic Hydrosols. You will find 1 each of the following organic hydrosols:

Rosewater, Neroli, Lavender and Rosemary

Use by misting your face to seal in moisture under creams, serums and elixirs and use throughout the day when your skin needs a refreshing and uplifting herbal quench.

These little friends are perfect for a quick skin refreshing when you are traveling, on a plane, need a quick pick me up at work or on a hot day.

Rosewater has been used in skincare and beauty rituals for thousands of years. Regal and precious, Bulgarian Rose is a pleasure to smell and is an incredible treat to the skin. Our organic Rosewater Hydrosol is a great option for any skin type and our most popular for facial care. Beyond skincare, people love using Rosewater as an aromatic pick-me-up. A quick spritz can help you feel ready to face the day and take in the beauty of life.

Neroli Distilled from blossoms of the Orange tree, Neroli is a delight to the skin and the senses. With its astringent and toning properties mixed with its fresh, citrus-floral and calm scent, it is an extra exquisite aromatic and skincare favorite.

Rosemary Invigorating and inspiring Rosemary makes a fresh, clear and herbaceous hydrosol. Used for centuries as a beauty tonic for the hair, scalp and face, Rosemary provides a clean and clear feeling of rejuvenation to the skin. A couple of mists will leave your skin feeling cool, clean and refreshed. Grown and distilled in the USA from organic Rosemary leaves, our Rosemary Hydrosol is a favorite to support skin tightening and invigorating.

Lavender With similar properties as the essential oil of Lavender, though with a notably different scent, Lavender Hydrosol is wonderful for the skin. It has hydrating, balancing and emollient qualities which make it especially suited for normal to dry skin. Our Lavender hydrosol is a gentle favorite with soft herbal aromatic notes.

Organic Bulgarian Rosewater (Rosa damascena) Bulgaria
After proper cleansing, mist the face for a refreshing, hydrating treat before applying any of our facial moisturizers.