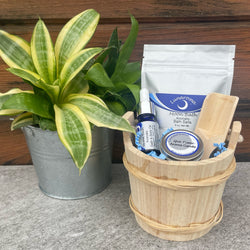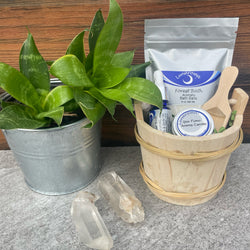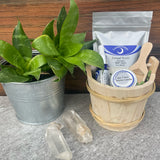 Lunaroma
Spa Time Gift Set
Self Care is one of the most important parts in creating peace, health and happiness.

Our Spa Time Gift Sets are made to help support your desire to take the time for self care supporting balance and overall wellness. 

Spa Time Gift Set is available in 2 unique and transformative blends...Moon Bath and Forest Bath. Each set contains an 8 oz Bath Salt, a 10ml aromatic Bath and Body Oil, a Spa Time Mini Candle and a bath salt scooper all packaged in a cute wooden pail. The set is packaged in a natural Sinamay bag and ready for gifting.

Moon Bath - An ethereal blend containing Jasmine, Lavender, Bergamot, Chamomile and Orange. Light uplifting citruses blend with herbal florals and Jasmine to bring you to a place resembling the feeling of bathing under a Full Moon. Relax and Renew as you soak in the aromatic scent of MoonBeams. 

Forest Bath - Meditative, grounding, sweet, humid, peaceful and restorative. Soak in the scent of the green dew of a fresh Forest. With mesmerizing scents containing Balsam Fir, Oakmoss, Pine and others, Forest Bath will bring you to the space of serenity and renewal supported by our brilliant botanical Forest friends.