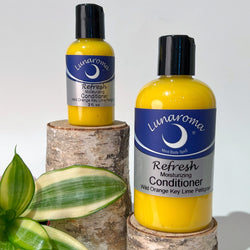 Lunaroma
Refresh Moisturizing Conditioner
Experience aromatherapy hair care at its best in your own shower with our Refresh Conditioner. With a juicy, fresh, uplifting, and citrus scent and a deeply conditioning action.

Introducing our Refresh Synergy enriched with the invigorating fusion of Wild Orange, Key Lime, and Petitgrain essential oils. This fresh scent is specifically crafted to awaken your senses and rejuvenate your hair, offering a refreshing and revitalizing experience.

The Refresh Shampoo gently cleanses and purifies your hair, effectively removing oil and impurities while maintaining its natural balance. The uplifting combination of Wild Orange and Key Lime essential oils creates a delightful citrus-infused aroma that enlivens your senses and refreshes your hair. This energizing formula helps promote healthy scalp conditions, leaving your hair feeling fresh and renewed.

Complementing the shampoo, the Refresh Conditioner deeply nourishes and moisturizes your hair, restoring its natural radiance and manageability. The uplifting blend of Petitgrain and Key Lime essential oils provides a refreshing burst of aroma, while botanical extracts and hydrating agents replenish and soften each strand. This harmonious fusion helps to strengthen and protect your hair, reducing frizz and leaving it silky-smooth and vibrant.

Refresh Shampoo and Conditioner, featuring Wild Orange, Key Lime, and Petitgrain essential oils, is the perfect choice for those seeking a refreshing citrus and aromatic hair care experience. Immerse yourself in the uplifting scents of citrus while treating your hair to the rejuvenating benefits of these carefully selected essential oils.

Embrace the power of nature and enjoy a renewed, vibrant look and feel to your hair every day.

Contains no Sodium Laurel Sulfate or Sulfates.

Aqua (Deionized Water), Decyl Glucoside, Sodium Cocoamphoacetate, Glycerin, Xanthan Gum, Phenoxyethanol, Hydrolyzed Wheat Protein, Caprylyl Glycol, Panthenol (Pro-Vitamin B5), Sorbic Acid, (May contain sodium bicarbonate and/or citric acid as pH adjusters), pure essential oils. NO SLS.