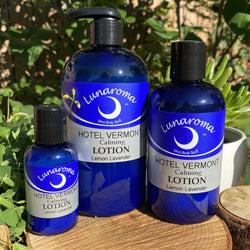 Lunaroma
Hotel Vermont Lemon Lavender Lotion
Recreate your Hotel Vermont experience in the comfort of your own home with Hotel Vermont's Lemon Lavender Lotion. With an uplifting, soothing and refreshing scent, the Hotel Vermont Lemon Lavender Lotion is a favorite of all guests. 

NOTE: Lemon Lavender Body Lotion is extremely HEAT SENSITIVE! When shipping in hot weather, we cannot assure you will receive it in perfect condition. Heat will cause this product to liquify and change its appearance however, this change will not always damage the product. If it has not sustained extensive heat, place the lotion in your refrigerator for at least 4 hours and the product will usually thicken once again. 

Aloe Barbadensis (Organic Aloe) Leaf Juice, Cocos Nucifera (Organic Coconut) Oil, Aspalathus Linearis (Organic Rooibos) Extract, Emulsifying Wax NF, Glycerin, Stearic Acid, Simmondsia Chinensis (Organic Jojoba) Seed Oil, Olea Europaea (Organic Olive) Oil, Tocopherol (Vitamin E), Dimethylaminoethanol (DMAE), Methylsulfonylmethane (MSM), Camellia Sinensis (Organic Green Tea) Leaf Extract, Butyrospermum Parkii (Organic Shea) Butter, Salix Alba (Organic White Willow) Bark Extract, Daucus Carota (Carrot) Seed Oil, Xanthan Gum, (May contain sodium bicarbonate and/or citric acid as pH adjusters), pure essential oils.