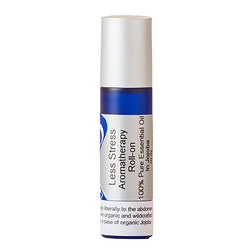 Lunaroma
10ml Less Stress Aromatherapy Roll-On
Formulated using the highest quality pure essential oils, including Rosemary, Lavender and Bergamot, Less Stress is an everyday favorite to many. Well-balanced with bright, soft, clearing and grounding aromatic notes, you will want to have this roll-on with you at all times.

Our highly concentrated portable roll-ons bring convenience and potency to your aromatherapy experience.

Pure organic and wildcrafted essential oils in a base of Organic Jojoba.
Apply to temples, neck, chest, and under the nose as often as desired.