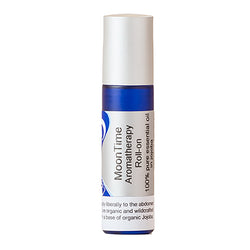 Lunaroma
10ml Moon Time Aromatherapy Roll-On
Moon Time is an aromatic ally for menstruation that is formulated using the highest quality pure essential oils. With traditional moon time favorites like Lavender, Clary Sage, Jasmine and warm-smelling Ginger this blend is a trusted standby for menstruation.

Our highly concentrated portable roll-ons bring convenience and potency to your aromatherapy experience.

Pure organic and wildcrafted essential oils in a base of Organic Jojoba.
Apply this traditional aromatic blend to lower abdomen and lower back prior to and during menstruation.