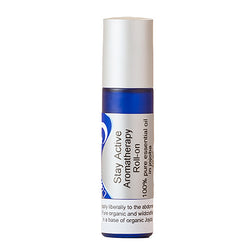 Lunaroma
10ml Stay Active Aromatherapy Roll-On
Formulated with oils of Eucalyptus, Peppermint and Lavender, Stay Active is great before or after exercise and physical activity.

Our highly concentrated portable roll-ons bring convenience and potency to your aromatherapy experience.

Pure organic and wildcrafted essential oils in a base of Organic Jojoba.
Roll onto muscles and joints before or after activity and workouts to enjoy the powerful, fresh aromatic experience.