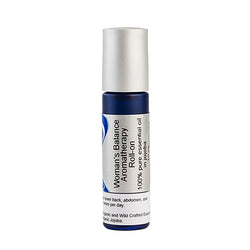 Lunaroma
10ml Woman's Balance Aromatherapy Roll-On
Woman's Balance is formulated with the highest quality pure essential oils including Lavender, Geranium and Clary Sage. These oils are traditional feminine favorites that and can be worn throughout the month for their gentle, balanced floral scent.

Our highly concentrated portable roll-ons bring convenience and potency to your aromatherapy experience.

Pure organic and wildcrafted essential oils in a base of Organic Jojoba.
Roll onto lower back, abdomen and bottoms of feet 3-4 times/day.