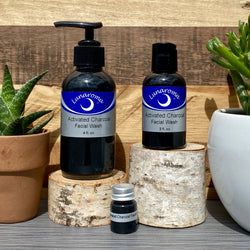 Lunaroma
Activated Charcoal Facial Wash
If you are looking for the ultimate in deep clean and fresh feel, then our Activated Charcoal Facial Wash is the cleanser of your dreams. Perfect for normal to oily skin, this face wash cleans each and every pore while being gentle enough to use everyday. No stripping, no irritation. Just luminous, squeaky clean, sparkling skin.

Pro Tip: We suggest our Activated Charcoal Cleansers be used in the shower for ease of use where no clean up will be necessary. 

Saponified Oils of organic Coconut, organic Olive and organic Jojoba, Vegetable Glycerin, organic Aloe Vera, organic Rosewater, organic Lavender Hydrosol, organic Aloe Gel, organic Neem Oil, Activated Charcoal made from Coconut, Colloidal Silver, organic White Willow Bark Extract, organic Milk Thistle Seed Oil, organic Guar Gum, Rosemary Extract & pure wild Crafted & organic Essential Oils
Apply to wet face, gently wash in a circular motion (may also be used with an exfoliating cloth or brush) and rinse well. Follow with hydrosol or toner and your favorite Lunaroma moisturizer or elixir. May be used daily or intermittently depending on how much oil you would like to control. Works especially well for supporting amazing skin when combined with Organic Rosewater and Nourishing Facial Elixir, Clarify Elixir, and Clarify Facial Cream.