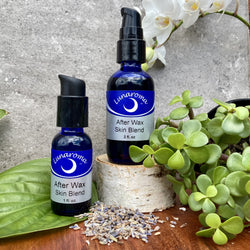 Lunaroma
After Wax Skin Blend
No more inflamed red skin after waxing. Our blend is formulated with organic essential oils to calm, soothe and protect freshly waxed skin. May be used anywhere waxing has occurred. Blended into a base of organic Jojoba, our After Wax will not clog pores or cause blemishes. We recommend using between waxings to keep skin soft and supple and help avoid ingrown hair.

 

Organic Jojoba, Fractionated Coconut oil, Pure D-Alpha Vitamin E, our blend of soothing, anti-inflammatory, skin renewing essential oils.
Apply immediately to freshly waxed skin for soothing and reducing redness. Apply throughout the day if redness or inflammation persists.