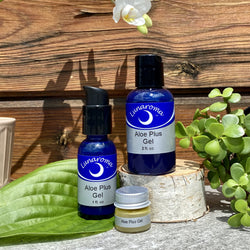 Our Aloe Plus Gel is a moisturizing and refreshing formula that cools and soothes the skin. It features Aloe Vera juice, and organic Aloe Vera Gel and is enriched with botanical oils of organic Jojoba, organic Rosehip Seed and organic St. John's Wort infusion. With the cooling scent of organic Lavender and Chamomile hydrosols, our Aloe Plus Gel is perfect to use after a day in the sun or handy to have in the kitchen for cooling after hot accidents.

Organic Aloe Juice, organic Lavender and Chamomile Hydrosols, organic Witch Hazel, organic Jojoba, organic Rosehip Seed Oil, organic Olive Oil Infusion of Calendula and St. John's Wort, Silica, Colloidal Silver, Vitamin E, organic Sea Buckthorn Oil, Carrot Oil, organic Pomegranate CO2, organic Guar Gum, organic Aloe Vera Powder, organic and wildcrafted essential oils
Apply to the effected area as often as desired.