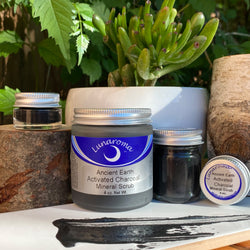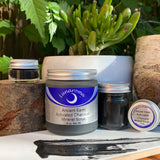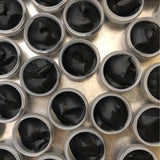 Lunaroma
Ancient Earth Activated Charcoal Mineral Scrub
Our Activated Charcoal Mineral Scrub provides you with deeply clean and luxuriously illuminated skin. Formulated for normal to oily skin, this polishing scrub penetrates deep into your pores leaving your skin unforgettably soft and spotlessly clean. The cleansing action of Activated Charcoal is refreshing and powerful.

Our premium grade Coconut derived Activated Charcoal is blended into a lightweight, moisture-rich cleansing base of organic ingredients to soften, cleanse and clear including Jojoba, Aloe Vera gel, Rosewater and cold-pressed Milk Thistle Seed Oil as well as essential oils of Frankincense and Helichrysum.

Pro Tip: We suggest our Activated Charcoal Cleansers be used in the shower for ease of use where no clean up will be necessary. 

Activated Charcoal from Coconut, organic Aloe Vera Gel, Saponified organic Coconut, Olive, & Jojoba Oils, Fine Ground Pumice, MSM, White Clay, organic Bulgarian Rosewater, organic Rosemary Hydrosol, Dead Sea Mud, organic Jojoba, organic Vegetable Glycerin, organic Guar Gum, organic Milk Thistle Seed Oil, Colloidal Silver, organic Neem Tincture, Carrot Root CO2 Total, Rosemary Extract, Vitamin E, 100% Pure Essential Oils
Gently scrub onto damp skin using a circular motion. Leave on for 1-2 minutes (or up to 5 minutes depending on your sensation), rinse off thoroughly with warm water and a washcloth. We suggest to use all our Activated Charcoal Cleansers in the shower making it much easier to clean up (charcoal is very black). Follow with a hydrosol or toner and your favorite moisturizer or serum. Use once or twice weekly.