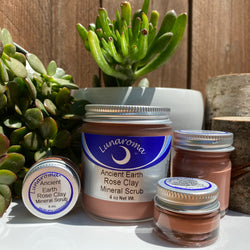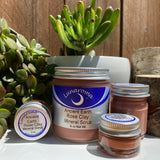 Lunaroma
Ancient Earth Rose Clay Mineral Scrub
Our rich and gentle polishing Rose Clay scrub will leave your face with a soft, beautiful glow. Rose clay enriches the cleansing and moisturizing base of our Ancient Earth product line and is an incredibly pure way to pamper your skin. Ideal for normal to sensitive skin, the Rose Clay Mineral Scrub is formulated with organic essential oils including Chamomile and Rose and anti-oxidant rich pressed oils of organic Sea Buckthorn and organic Rosehip. Experience for yourself the wonders of pure botanicals and ancient minerals. May be used in the style of a masque or a cleanser.

 

Saponified Oils of organic Coconut, Olive and Jojoba, organic Aloe Vera, Aloe Vera Juice, organic Rosewater, organic Lavender Hydrosol, organic Jojoba, organic Coconut Oil, Vermont Beeswax, organic Shea Butter, Rose Kaolin Clay, Pumice, organic Vegetable Glycerin, organic Argan Oil, organic Rosehip Seed, organic Sea Buckthorn, organic Pomegranate Oil, Vegetable Gum, Rosemary Extract, Colloidal Silver, Colloidal Gold, pure and wild crafted or organic Essential Oils.
Gently scrub onto damp skin using a circular motion. Leave on for 1-2 minutes (or up to 10 minutes depending on your sensation), rinse off thoroughly with warm water and a washcloth. May also be used in the shower. Follow with a hydrosol or toner and your favorite moisturizer or serum. Use once to three times weekly.