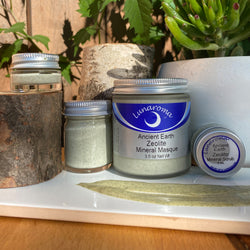 Lunaroma
Ancient Earth Zeolite Mineral Scrub
Our Ancient Earth Zeolite Mineral Scrub is truly transformative, bringing renewed radiance to your face. Featuring Zeolite, an ancient mineral and natural wonder for the skin combined with organic Green Coffee oil, a powerful antioxidant and pure USP Sulfur giving your skin the building blocks it needs to look amazing. Cleansing, moisturizing and refreshing, the ritual of using our Zeolite scrub will leave you feeling rejuvenated and deeply clean. Facial care favorite organic essential oils of Tulsi, Lavender and Rosemary verbenone elevate the other organic ingredients in this product, giving it an unforgettable scent alongside an unforgettable feel.

Saponified Oils of Organic Coconut, Organic Olive and Organic Jojoba, Organic Aloe Vera, Distilled Water, Organic Rosewater, Organic Lavender Hydrosol, Organic Jojoba, Organic Coconut Oil, Vermont Beeswax, Organic Shea Butter, Zeolite, USP Sulfur, Sodium Bicarbonate, Bamboo Powder, Organic Vegetable Glycerin, Organic Green Coffee Oil, Organic Argan Oil, Vegetable Gum, Rosemary Extract, Colloidal Silver, Colloidal Gold, Pure and Wild Crafted or Organic Essential Oils


Gently scrub into damp skin using a circular motion. Leave on for 1-2 minutes (or up to 10 minutes depending on your sensation), rinse off thoroughly with warm water and a washcloth. May also be used in the shower. Follow with a hydrosol or toner and your favorite moisturizer or serum. Use once to three times weekly.