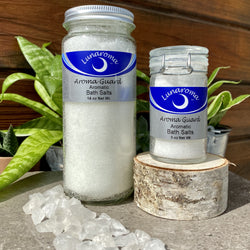 Lunaroma
Aroma Guard Aromatic Bath Salt
Aroma Guard Aromatic Bath Salt Aroma is a powerful blend of Lemon, Tea Tree, Eucalyptus, Tea Tree and other crisp and clearing oils which are cleansing and make for an amazing supportive bath, especially during winter months.

Dead Sea Salt, Epsom Salt, organic Fractionated Coconut Oil, and pure Essential Oils.
Add 1/4 cup or more to an already poured bath. Soak and enjoy.