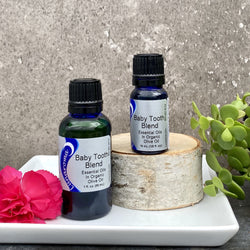 The essential oil scents of organic Chamomile, Clove, Mint and Lavender make this oil perfect for a soothing baby gum massage. Extremely diluted in a safe base of organic Olive Oil for babies of teething age and older.

Organic Olive Oil, Pure organic essential oils of Lavender, Peppermint, Chamomile, Clove and Myrrh. 100% Organic.

Rub a drop or two into baby's gums.

Store tightly capped bottle in a dark, cool place, for an extended shelf life of 1 year from purchase.