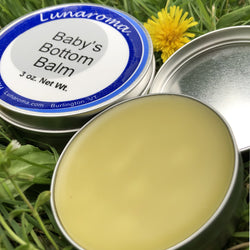 Lunaroma
Baby's Bottom Balm
Keep your baby's bottom soft and happy with this gentle, balanced herb-infused balm. With the gentle herbal powers of organic Calendula, Plantain, Lavender and Chamomile alongside the soothing scents of organic Chamomile and Lavender essential oils, Baby's Bottom Balm is a favorite of both parents and babies. 

All organic Herbal infusion of Chamomile, Lavender, Comfrey, Plantain, St. Johnswort & Calendula in organic Olive Oil, organic Jojoba, raw organic Shea Butter, organic Coconut Oil, Vermont Beeswax, pure Essential Oils of organic Lavender and organic Roman Chamomile.

Apply to clean, dry skin during diaper changes, can also be used for soothing chafing, avoiding windburn, and generally soothing to abrasions.