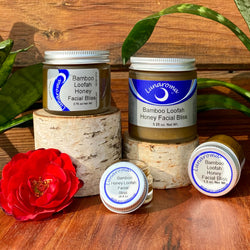 Lunaroma
Bamboo Loofah Honey Facial Bliss
Our Bamboo Honey Loofah Facial Bliss is one of our most loved facial products. It is our number one most popular exfoliant, and if you have ever used it you know why. It leaves your skin looking creamy, smooth and vibrant and feeling amazingly soft. This scrub features gentle, exfoliating grains of Bamboo and Loofah that are fine polished to have smooth edges—unlike many harsher scrubs out there that can damage your skin. Additionally we infuse this unique Facial Bliss with skin moisturizers and organic superfoods like raw Vermont Honey, organic Aloe Vera, organic Jojoba and organic Sea Buckthorn. Essentially, using it is like dessert for your skin.

Vermont Honey, organic Aloe Vera Gel, organic Jojoba, organic Rosewater, organic Witch Hazel Hydrosol, Loofah, Bamboo, organic Cane Sugar, Pumice, organic Vegetable Glycerin, organic Guar Gum, Malic Acid, Citric Acid, Colloidal Silver, organic Echinacea Tincture, organic Willow Bark Tincture, organic Seabuckthorn CO2, Carrot Root Oil, Pure organic and wildcrafted Essential Oils
Apply to wet skin, gently massaging with your fingertips in a circular motion. Allow the product to remain on the skin for a few minutes before rinsing well. Follow with a hydrosol and one of our facial creams or elixirs.