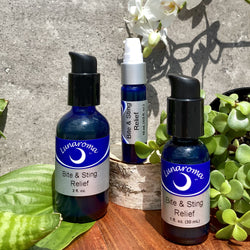 Lunaroma
Bite & Sting Relief
This cooling, organic Aloe Vera based gel contains essential oils and herbal extracts which act to help soothe the itch and the swelling of bites and stings.

May also be used on swelling and redness caused by surface irritation of the skin experienced during gardening.

Organic Aloe Juice, organic Lavender and Chamomile Hydrosols, organic Witch Hazel, organic Jojoba, organic Rosehip Seed Oil, organic Olive Oil Infusion of Calendula and St. John's Wort, Silica, Colloidal Silver, Vitamin E, organic Sea Buckthorn Oil, Carrot Oil, organic Pomegranate CO2, organic Guar Gum, organic Aloe Vera Powder, organic and wildcrafted essential oils
Apply to the effected area as often as desired.