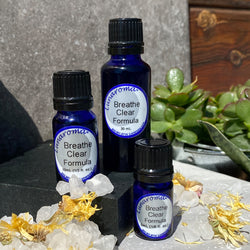 Lunaroma
Breathe Clear Formula
Take in the most clear and fresh with our Breathe Clear Formula. Made with organic, pure essential oils of Eucalyptus, Peppermint and Tea Tree as well as natural Menthol Crystals, in a base of organic Jojoba this amazing combination will inspire you to breathe freely and take in its fresh scent.



*Breathe Clear Formula is in a carrier oil and is meant to be used directly in your nose, and NOT in an aromatherapy diffuser. If you are looking for a pure, undiluted essential oil blend to be used in your diffuser, use our Breathe Clear Synergy found here.
Organic Jojoba, pure organic essential oils including Eucalyptus, Peppermint, Tea Tree and organic Menthol Crystals
Apply 3 drops to each end of a cotton swab and apply gently to the nostrils. Use each side of the swab for each nostril. Use as desired.