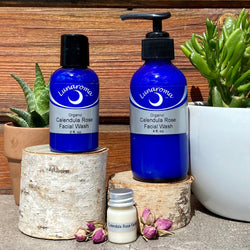 Lunaroma
Calendula Rose Facial Wash
Calendula and Rose are some of the finest botanicals for facial care. This face wash is lightly moisturizing and is perfect for dry to normal skin types as well as aging skin. Our Calendula Rose Facial Wash gives you a clean feel, and removes your makeup but without drying out your skin. The aromatics in this wash are gentle, fresh and beautiful.

Organic Castile Soap, organic Rosewater, organic Aloe Gel, organic Rose Petals infused in organic Fractionated Coconut Oil, organic Calendula infused in organic Olive Oil, organic Rosehip Seed Oil and Rose Essential Oil
Apply to wet face in a circular motion, gently wash and rinse well. Follow with a hydrosol or toner and your favorite Lunaroma moisturizer or elixir.