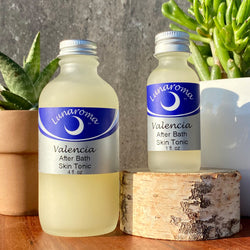 Lunaroma
Valencia After Bath Splash Skin Tonic
Valencia...an effervescent Citrus explodes with top notes of Wild Orange and Grapefruit layered into balsamic, expansive, and strengthening Conifer notes of White Spruce and Douglas Fir blended with a subtle touch of absolutely beautiful Bulgarian Rose Absolute and Bulgarian Rose Otto. Uplifting, exciting, sexy and alluring all while being a clean, clear and crisp scent.

Enjoy our After Bath Splash Skin Tonic to revitalize your senses, tighten your pores, soften your skin, and seal in moisture, keeping your skin feeling just showered all day long. Formulated with organic Aloe Vera, ecocert Hyaluronic Acid, organic Witch Hazel distillate and more, After Bath Splash Skin Tonics leave your skin feeling soft, smooth, and aromatic. 

After Bath Splash Skin Tonics are also a wonderfully natural alternative to after shave. Leaving the skin feeling smooth, soft and protected. 

Aloe Vera Distillate, organic Aloe Vera Gel, organic Cane Alcohol, organic Witch Hazel Distillate, organic Grape Alcohol, organic Sugar Cane Alcohol, organic Fractionated Coconut Oil, Ecocert Hyaluronic Acid, organic Vegetable Glycerin, organic Tincture of Benzoin, Colloidal Silver, Acacia Gum and Pure Essential Oils.
Splash on after the bath or shower to refresh, tone and scent the skin, follow with our Ultra Luxe Body Lotion, Cream or Body Butter if desired.