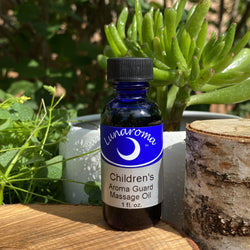 Lunaroma
Children's Aroma Guard Massage Oil
Children's Aroma Guard Massage Oil is formulated using the most supportive, protective and clean smelling essential oils; including Lavender, Thyme, Clove, Lemon and Tea Tree in a safe dilution for children.

Perfect for baths and massages before air travel, back to school, busy times and increased exposure in your children's daily lives. Use for children ages 4-12.

Organic Jojoba, organic essential oils.

Massage into chest, back and bottoms of the feet or apply before a bath.

Store tightly capped bottle in a dark, cool place, for an extended shelf life of approximately 2 years.