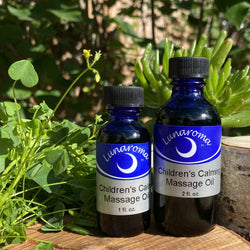 Lunaroma
Children's Calming Massage Oil
Children's Calming Massage Oil is formulated using the most relaxing, soothing and gentle smelling organic essential oils; including Lavender, Chamomile, Tangerine, and Marjoram in a safe dilution for children.

Perfect for baths, before bedtime, and when a calming massage is necessary.  Use for children ages 4-12.

Organic Jojoba, organic essential oils.

Massage into chest, back and bottoms of the feet or apply before a bath.

Store tightly capped bottle in a dark, cool place, for an extended shelf life of approximately 2 years.