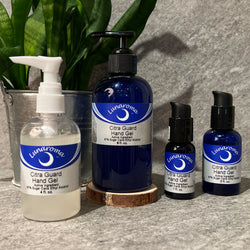 Lunaroma
Citra Guard Hand Gel Cleanser
Our new Citra Guard Hand Gel Cleanser features the same powerful formula of a base of 70% pure non-GMO Sugar Cane Ethyl Alcohol blended with Vegetable Glycerin to protect your hands from dryness, but with a pleasant and fresh Lemon aroma. Blended with cleansing essential oils of Lemon, Lime, Orange, and more, our Citra Guard is perfect for use when on public transit, airplanes, or anytime you do not have access to washing your hands.

67% Non-GMO Pure Sugar Cane Ethyl Alcohol, Deionized Water, Vegetable Glycerin, Pure Essential Oils, Xanthan Gum.

For hand washing only when water is not available. Coat hands fully with gel, rub together well and allow to dry without wiping. Perfect for use in public, while on public transit, airplanes, etc., wherever you don't have access to water and can't use our hand soap.

WARNING: 67% alcohol content=FLAMMABLE, keep away from fire and flames. For external use only. Do not use near eyes. In case of contact with eyes, throughly rinse with water. Keep out of reach of children. If swallowed get medical help or contact a Poison Control Center right away.