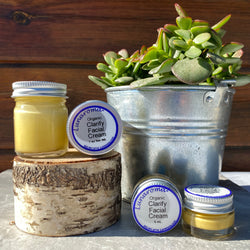 Lunaroma
Clarify Facial Cream
This amazing facial cream works when no other facial care product does the trick. It's a perfectly balanced formula with life changing possibilities that will leave you with gorgeous, silky skin. Initially, use every other day, slowly moving to every day. Then, when desired results are achieved, move back to occasional use when needed. Clarify Facial Cream is one of Leyla's (Lunaroma's founder) most impressive proprietary formulas.

 

Organic Jojoba, organic Coconut Oil, organic Rosewater, organic Frankincense Hydrosol, USP Sulfur, Vermont Beeswax, organic MSM, Baking Soda, Colloidal Silver, organic Rosehip Seed Oil, Colloidal Silica, organic Echinacea Extract, organic Oat Straw Extract, organic Neem Extract, Carrot Oil, organic Sea Buckthorn Oil, organic Pomegranate CO2, Vitamin E D-Alpha, and Pure Organic and Wildcrafted Essential Oils
Apply to dried skin at night after cleansing and toning. To begin, apply a very thin layer every other night for 1-2 weeks, gradually working up to once a night. Due to photosensitization from the sulphur in this product, avoid direct sunlight on skin for 8 hours after application. This product contains USP Sulfur and has the potential to cause irritation, especially to sensitive skin, if not used properly.