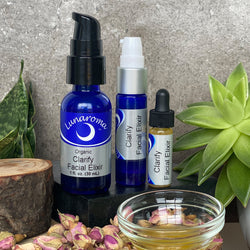 Lunaroma
Clarify Facial Elixir
This daily elixir is specially designed with strong antioxidants and a gentle dilution of powerful essential oils--making for a clean, balanced moisturizing experience. Made with cooling and cleansing organic Aloe Vera and organic Jojoba to balance the skin and keep it moisturized and clear, we have included an effective and fresh blend of essential oils including Palmarosa, Lavender and Tea Tree . The Clarify Facial Elixir may be used morning and night after proper cleansing and hydrating with a toner or hydrosol. Will not clog pores.

Organic Aloe Vera Gel, Colloidal Silver, organic Jojoba, Colloidal Silica, organic Rosehip Seed Oil, organic Rosewater, organic Helichrysum Hydrosol, organic Myrrh Hydrosol, MSM, DMAE, Carrot Root Oil, Ecocert organic Seabuckthorn CO2, organic Echinacea Extract in organic Grain Alcohol, Ecocert organic Hyaluronic Acid, organic Guar Gum, pure organic and wild-crafted essential oil.
Apply twice a day morning and evening after proper cleansing, hydrating, and moisturizing. We recommend using Clarify Facial Elixir with Neem Facial Wash, and Cucumber Rosewater Toner.