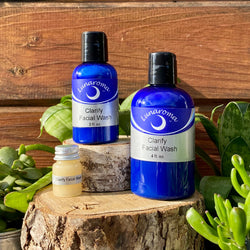 Lunaroma
Clarify Facial Wash
Cleanse your skin with the action of pure organic essential oils of Palmarosa, Tea Tree and others in an organic and gentle cleansing base made with organic Rosewater. Our Clarify Facial Wash is light, yet deeply cleansing and perfect for oilier skin which is prone to break outs. Clarify Facial Wash is formulated to include MSM, a naturally occurring organic sulphur rich in antioxidants, which helps to support the integrity of the skin. Gentle enough to use in the morning and evening.

Saponified Oils of organic Coconut, organic Olive, and organic Jojoba, organic Lavender Hydrosol, Colloidal Silver, organic Bulgarian Rosewater, organic MSM, organic Vegetable Glycerin, organic Echinacea Tincture, organic Acacia Gum, pure organic and/ or wildcrafted essential oils.
For use in the morning and night, apply to wet face, wash and rinse well. Follow with toner and moisturizer or elixir.