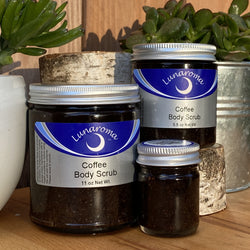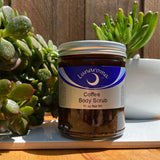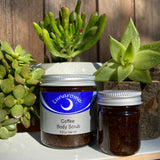 Lunaroma
Coffee Body Scrub
Our antioxidant rich coffee scrub combines salts, sugar and emollient oils with an intoxicating array of essential oils to create a skin softening treat perfect for any day of the week. When rubbed into the skin, the mineral-rich salts and organic cane sugar exfoliate the body by sweeping away the top layer of dead skin, revealing your own natural healthy glow. These elements combine with organic Coffee and Jojoba, both of which are high in antioxidants. The result is a wonderfully scented, invigorating and deeply cleansing experience for your skin.

Organic Cane Sugar, Sea Salt, Epsom Salt, organic Coffee, organic Apricot Kernel Oil, organic Fractionated Coconut Oil, organic Vegetable Glycerin, organic Jojoba, pure essential oils and absolutes.
Apply to wet skin during shower or bath by scrubbing in a circular motion all over body, with extra concentration on hips and thighs and anywhere else that smoother skin is desired. Allow to soak into skin, then rinse well.