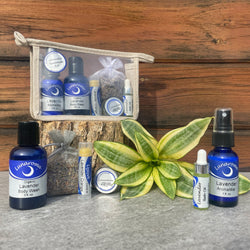 Lunaroma
Lavender Essentials Gift Set
We have covered all the bases with our Lavender Essentials Set. Lavender, gentle and floral, is perhaps the best known plant in aromatherapy - and for good reason. This familiar scent invites calm and brings comfort.

This set comes in a zip top hemp bag with a clear front panel. It includes one each of all your favorite Lunaroma products in Lavender:

Organic Body Wash (2 oz), Lavandula Ultra Luxe Body Cream (5 ml), Lavender Bath Oil Concentrate (5ml), Lavender AromaMist (1 oz), Lavender Orange Lip Love, and an organic Lavender Sachet. A wonderful treat for yourself and a pampering gift for a friend or loved one.