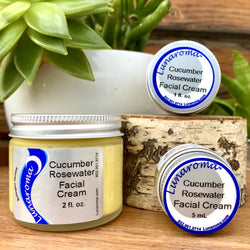 Lunaroma
Cucumber Rosewater Facial Cream
Deeply moisturizing and hydrating our Cucumber Rosewater Facial Cream is a favorite of those with sensitive skin. A gentle cream, it is the only in our line of moisturizers that doesn't contain any essential oils. Instead, it gets its botanical prowess from pure organic hydrosols of Rosewater and Cucumber, Carrot Root oil and our organic Calendula infusion. Cooling Cucumber gives it a fresh and clean feel and Rosewater offers added indulgence that your face will love. A deeply penetrating moisturizer perfect for use in morning and night.

Organic Jojoba, organic Cucumber Hydrosol, organic Rosewater, Vermont Beeswax, organic raw Shea Butter, organic Calendula infusion in organic Extra Virgin Olive Oil, organic Vegetable Glycerin, Carrot Root Oil, organic Pomegranate CO2, Vitamin E T-50, Aspen Bark Extract.


Apply to damp skin after cleansing and toning. Use as often as desired.