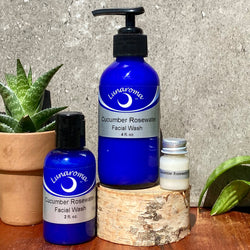 Lunaroma
Cucumber Rosewater Facial Wash
Our Cucumber Rosewater Facial Cleanser is gentle, balanced and perfect for normal to slightly oily as well as sensitive skin. The cooling, mildly astringent properties of Cucumber blended with the balancing effects of Rose will leave you loving the fresh, clean feel of your skin in addition to loving the aromatic qualities of the organic Rosewater and organic Cucumber. Great for removing light makeup, excess oil and impurities.

Saponified organic Oils of Coconut, Olive and Jojoba, Vegetable Gum and Vegetable Glycerin, organic Aloe Vera, organic Cucumber Hydrosol, organic Rosewater, organic Rose Petals infused in organic Fractionated Coconut Oil, Rosemary Extract, and organic Rose Essential Oil.
Apply to wet face in a circular motion, gently wash and rinse well. Follow with a hydrosol or toner and your favorite Lunaroma moisturizer or elixir.