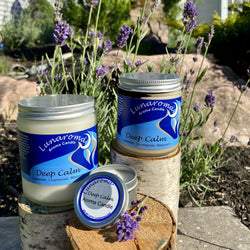 Lunaroma
Deep Calm Aroma Candle
Deep Calm...Soft, herbal, floral, soothing and fresh. Deep Calm is a favorite of scents to unwind to, featuring notes of Lavender, Chamomile, Marjoram and more, an aromatic tension tamer and lullaby blended into one.

We light the Deep Calm Aroma Candle after a stressful day, to accompany a relaxing bath, or as part of our pre-bedtime routine. 

Our beautiful line of Aroma Candles are made with 100% non-GMO Soy Wax, Hemp and Cotton wicks and pure Essential Oils and Absolutes and contain no synthetic fragrances or petroleum additives.

 

Our premium Aroma candles are hand poured in small batches and are perfect for scenting your space, setting the mood, and elevating your daily lifestyle in a safe, non-toxic and all natural way. 

 

100 % Non-GMO Soy Wax, Hemp and Cotton wick, pure essential oils and absolutes.

No Parafin Wax

No Synthetic Fragrances

No Lead in wicks

No Plastic

No Petroleum

Before each lighting, stand up wick and trim to 1/4 inch.

For maximum aroma and to avoid tunneling and wasting of the candle burn time, be sure to burn candle until wax pool extends to the edge of the candle.

The aluminum lid may be used to extinguish the candle instead of blowing it out.

Always make sure to burn candles on nonflammable surfaces, and away from pets, curtains, children and anything else which is flammable.