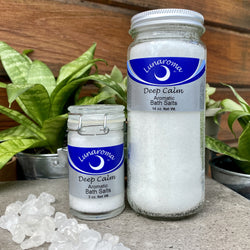 Lunaroma
Deep Calm Aromatic Bath Salt
Deep Calm Aromatic Bath Salt creates a sedative, balancing, and relaxing bath experience. Deep Calm is gentle, floral and soft with notes of Lavender, Roman Chamomile and Marjoram. A perfect scent for incorporating into bedtime and relaxation bath rituals. 

Dead Sea Salt, Epsom Salt, organic Fractionated Coconut Oil, and pure Essential Oils.
Add 1/4 cup or more to an already poured bath. Soak and enjoy.