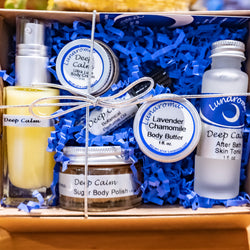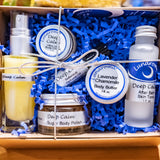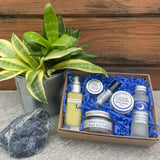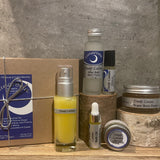 Lunaroma
Deep Calm Bath & Body Gift Set
One of our most popular Bath and Body Gift set is back! Our Deep Calm Synergy is the most chosen scent amongst our admirers. Formulated with Wildcrafted essential oils of French Lavender, Roman Chamomile, Marjoram and more, this soothing and gentle scent soothes your soul with a touch of fresh, light Herbal-Floral blended with uplifting Citrus bringing a sense of calm and comfort. A perfect choice for anyone who could use a little help winding down.

The Deep Calm Bath & Body Gift Set comes in a ribboned box, ready for gifting.  It includes one each of the following products all in the Deep Calm Scent.

Organic Sugar Body Scrub (1 oz), Body Butter (1 oz), Ultra Luxe Body Cream (5ml), Body Silk (1oz), After Bath Skin Tonic (25ml), Perfume Oil (3.75ml).

A wonderful treat for yourself as well as a luxuriously pampering gift for a loved one.