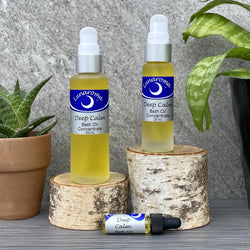 Lunaroma
Deep Calm Bath Oil Concentrate
Deep Calm is gentle, floral and soft with notes of Lavender, Roman Chamomile and Marjoram. A perfect scent for incorporating into bedtime and relaxation ritual baths.

There is nothing like a therapeutic, botanically pure aromatic bath. In a base of organic oils of Jojoba and Fractionated Coconut, our bath oil concentrate leaves your skin soft and silk while formulated for a truly aromatic bathing experience.

Organic Jojoba, organic Fractionated Coconut Oil, pure wild crafted and organic essential oil.
Add 3 to 5 pumps to an already pour hot bath, or apply to the skin before getting into the tub. Soak for at least 15 minutes.