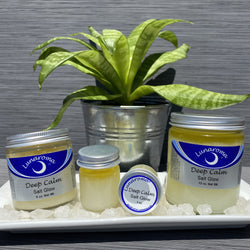 Lunaroma
Deep Calm Salt Glow
Our Deep Calm Salt Glow is designed to soften and exfoliate the skin while providing you with an indulgent, uplifting aromatic experience. This lush salt glow is blended with three types of salt for maximum mineral content. 

Salt Glows rely solely on mechanical exfoliation, and do not contain glycolic acid as the Sugar Body Polishes do. The grain is a bit heavier and is great for those who like a little extra scrub. 

Salt Glows are typically too rough for very sensitive skin, or for those who have irritations which cause open cuts or sores on the skin. Salt Glows should only be used before shaving, not immediately after, so as to avoid irritation caused by salt entering any micro cuts to the skin.

Scent Profile: Deep Calm is gentle, floral and soft with notes of Lavender, Roman Chamomile and Marjoram. A perfect scent for incorporating into before bedtime bathing and any bath and shower relaxation ritual.

Epsom Salt, Sea Salt, Dead Sea Salt, Apricot Kernel Oil, organic Jojoba, organic Fractionated Coconut Oil, organic Vegetable Glycerin, non-GMO Vitamin E, Citric Acid, pure organic and wildcrafted Essential Oils.

Apply to wet skin during shower or bath by scrubbing in a circular motion all over body, with extra concentration on drier areas such as elbows, and feet and anywhere else that smoother skin is desired. Allow to soak into skin, then rinse well. Follow with a Body Oil, Ultra Luxe Lotion, or Body Butter if desired.

Use in the bath to scrub, then soak in the luxury of pure skin nourishing oils and aromatics.

Leaves skin silky smooth and aromatic.