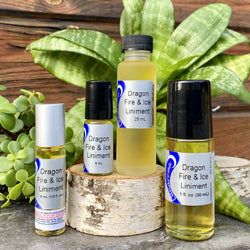 Lunaroma
Dragon Fire & Ice Liniment
Dragon Fire and Ice is our ode to the traditional Chinese liniment. It features well-known organic essential oils like Sweet Birch, Chamomile and Peppermint combined with organic Cayenne tincture, Camphor and Menthol, giving it a powerful, icy hot scent and feel.





Organic Sugar Alcohol, organic Fractionated Coconut Oil, organic Cayenne Tincture, wild-crafted and organic proprietary essential oil synergy including wild-crafted Birch Oil, pure source Menthol & Camphor Crystals.
Rub into muscles and joints before or after exercise and physical activity. Please note, individuals who are allergic to salicylic acid should not use this product due to the high content of organically occurring salicylic acid in Birch Oil. Individuals taking blood thinning medication should not use this product regularly due to the high concentration of Cayenne.